Company profile
Booklet "New residence management system begins (Monday) July 9, 2012"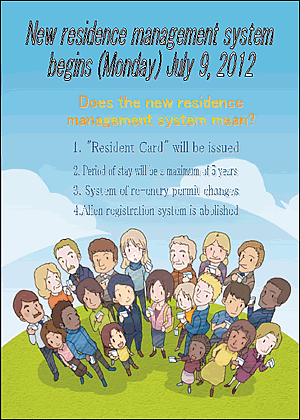 ●Booklet "New residence management system begins (Monday) July 9, 2012"
(¥3,150[tax included]+Carriage\500)
In it the target of a new residence management system, between the medium and long-term foreign residents in our country have a status of residence on the Immigration Control and Refugee Recognition Act.
Medium-and long-term residents who will be the subject of this system, for example, (the status of residence "settlers" and "Spouse or Child of Japanese National") Otsutome, etc. and Japanese companies who have found married to a Japanese There is a way (such as "international business knowledge and Humanities" and "technology" is the status of residence), technical interns, students and permanent residents of more, who during a short period of stay in our country for sightseeing purposes are not eligible.
1. "Resident Card" will be issued
2. Period of stay will be a maximum of 5 years
3. System of re-entry permit changes
4. Alien registration system is abolished
 
---
(Note) What is a Certificate of Eligibility?
A Certificate of Eligibility is issued before a visa application by a regional immigration authority under the jurisdiction of the Ministry of Justice as evidence that the foreign national meets the conditions for landing in Japan, including the requirements that the activity in which the foreign national wishes to engage in Japan at the time of the landing examination is not fraudulent and is an activity that comes under a status of residence (excluding Temporary Visitor Status) stipulated in the Immigration Control Act. Application by a proxy in Japan is allowed. Representative in Japan that may make the application is common, even in our office has handled.
The visa application in person than in foreign diplomatic missions abroad, visa application will be terminated early by far. Has become now, to come to Japan and the standard to obtain a Certificate of Eligibility prior to this already, all foreigners except in the case of unnecessary short stay visa, etc., you wish to visit Japan has been obtained in advance certificate of Eligibility.